Movies and films are such an important part of many people's lives; they allow you to escape from your reality and immerse yourself in entertainment, contrasting life, thrill, devastation, fear and excitement.
I love movies that inspire, and most importantly, movies that encourage me to think outside of the box and challenge the things I know. Films are such a huge inspiration in my life, no matter whether they're a documentary, feature film or simple YouTube video. They constantly encourage me to be the best person I can be, to question my thoughts and to be empowered by things I may have never known.
Here's a list of influential movies that encourage you to think a little deeper, to learn about the past, and to simply better the future:
The Hate U Give (2018)
The Hate U Give is a film about a teenage girl who grapples with racism, police brutality, and activism after witnessing her Black friend murdered by the police. It is an accurate representation of racism and police brutality that is occurring all around the world. This is a must watch.
READ MORE – The Hate U Give
Zootopia (2016)

Zootopia is a Disney film based around a Bunny Cop, who is constantly judged for things out of her control. The movie is a perfect reflection of the issues that affect the population in today's society.
It focuses on racial injustice, prejudice, gender inequality and sexism, in a way that is appropriate for all. Zootopia is a film that I highly recommend you watch with your family, it's beautifully created to make you think deeply about our world today, and the things that are constantly being ignored.
READ MORE – Zootopia
The Danish Girl (2015)
This film is based on a true story of Lili Ilse Elvenes, a Danish transgender woman who was the first identifiable recipient of sex reassignment surgery.
The story begins with Einar Wegener and his wife, who were both very respected artists. As the movie unwinds, you begin to see how Lili reaches the surface or Einar's personality, and how she was always evident throughout his life. The struggles she faced throughout the film really brings light to the reality of thousands of transgender people around the world.
READ MORE – The Danish Girl
12 Years A Slave (2014)

Solomon Northup was a free, African American man who was kidnapped and sold into Slavery in 1841. 12 Years a Slave shows the brutal mistreatment of Solomon and People of Colour throughout his time, whilst empowering viewers with his strength and resilience to move forward from his injustice.
The story is brutal and heartbreaking… But incredibly real.
READ MORE – 12 Years A Slave
Moonlight (2016)
Moonlight is a beautiful film that does nothing but makes you think. This storyline is based on a young Black man as he struggles to discover his identity, sexuality, family life and masculinity.
This movie is filled with unbelievable filmmaking and is truly one of the most empowering, influential films you'll ever watch. It's no wonder that this film won a very deserving Oscar award.
READ MORE – Moonlight
The Butler (2013)

Based on a true story, The Butler is a reflection of Eugene Allen, who served in the White House as a butler for over 3 decades.
The film shows how the American civil rights movement, racial injustice and white supremacy affected his life, and how he was empowered to become an activist for the population who were (and still are) constantly being victims of prejudice.
READ MORE – The Butler
Call Me By Your Name (2017)
A love story between 2 teenage boys who for a connection through their emerging sexuality.
Set in Lombardy, Italy in 1983, Elio lives with his family and narrates a scene in which the annual houseguest enters his home, and things in both of their lives begin to change… This film is sure to pull at your heartstrings.
READ MORE – Call Me By Your Name
Wild (2014)

A gripping story about a woman who was faced with heartache and personal tragedies, which lead her to embark on a journey that would change her life forever.
Although it is solely based on a 1000 mile hike through the desert, the story behind the journey is fragile, empowering and very real. It leaves you questioning your own intentions.
READ MORE – Wild
The Kite Runner (2007)

The Kite Runner is a story of 2 boys, Amir and Hassan, in Afghanistan. Due to a horrific event and the Taliban reign, Amir was forced to flee to America. As several years pass, Amir returns to his homeland to right the wrongs he inflicted towards his friend many years ago.
The movie is about betrayal, friendship and most importantly, morality.
READ MORE – The Kite Runner
Black Panther (2018)
Not only is this film one of the best Marvel movies, but this is an incredibly empowering, unbelievable step forward for all Black people and African culture in general.
I really don't need to say more, this is a film that you all must see!
READ MORE – Black Panther
Cowspiracy (2014)

A feature-length documentary that explores the truth behind the impact that animal agriculture has on the environment, and climate change as a whole. It's a must-see for anyone who has a slight interest in the future of our planet, and our lives.
READ MORE – Cowspiracy
Minimalism: A Documentary About the Important Things (2015)
As the title says, the Minimalism documentary is about a lot of important things. It explores the lives of minimalists around the world, and how living life with a purpose is something to strive for.
READ MORE – Minimalism
Inside Out (2015)

Inside Out is the story of an 11-year-old girl who is constantly guided by her emotions. The Pixar film is kind, funny and really pulls at the heartstrings. It is a perfect resemblance of our emotions, mental health, imagination and subconscious, whilst encouraging viewers to always find your way home when things get rough.
READ MORE – Inside Out
Hacksaw Ridge (2016)

An unbelievable true story of conscientious objector Desmond T. Doss, who saved 75 men in Okinawa, during the horrific battle of WWII, without firing a single bullet.
"With the world so set on tearing itself apart, it doesn't seem like such a bad thing to me to want to put a little bit of it back together." – Desmond T. Doss.
An incredibly inspiring movie that will leave you hanging on to your seat.
READ MORE – Hacksaw Ridge
Chasing Asylum (2016)

Chasing Asylum is a documentary that exposes the truth behind the cruel policies of Australia's offshore detention centres. The 90-minute feature uncovers the unsanitary conditions and mental + physical mistreatment that is often hidden behind the media's closed doors.
READ MORE – Chasing Asylum
The Shawshank Redemption (1994)

This is a significantly widespread film about Andy Dufresne, a man who is convicted of double murder, all whilst declaring his innocence. He is sentenced to life in prison, where the cruel realities of jail life are drastically forced upon him. Throughout his horrific experiences, he continues to have hope and is a true testament to the human spirit.
Thought-provoking to say the least.
READ MORE – The Shawshank Redemption
Milk (2008)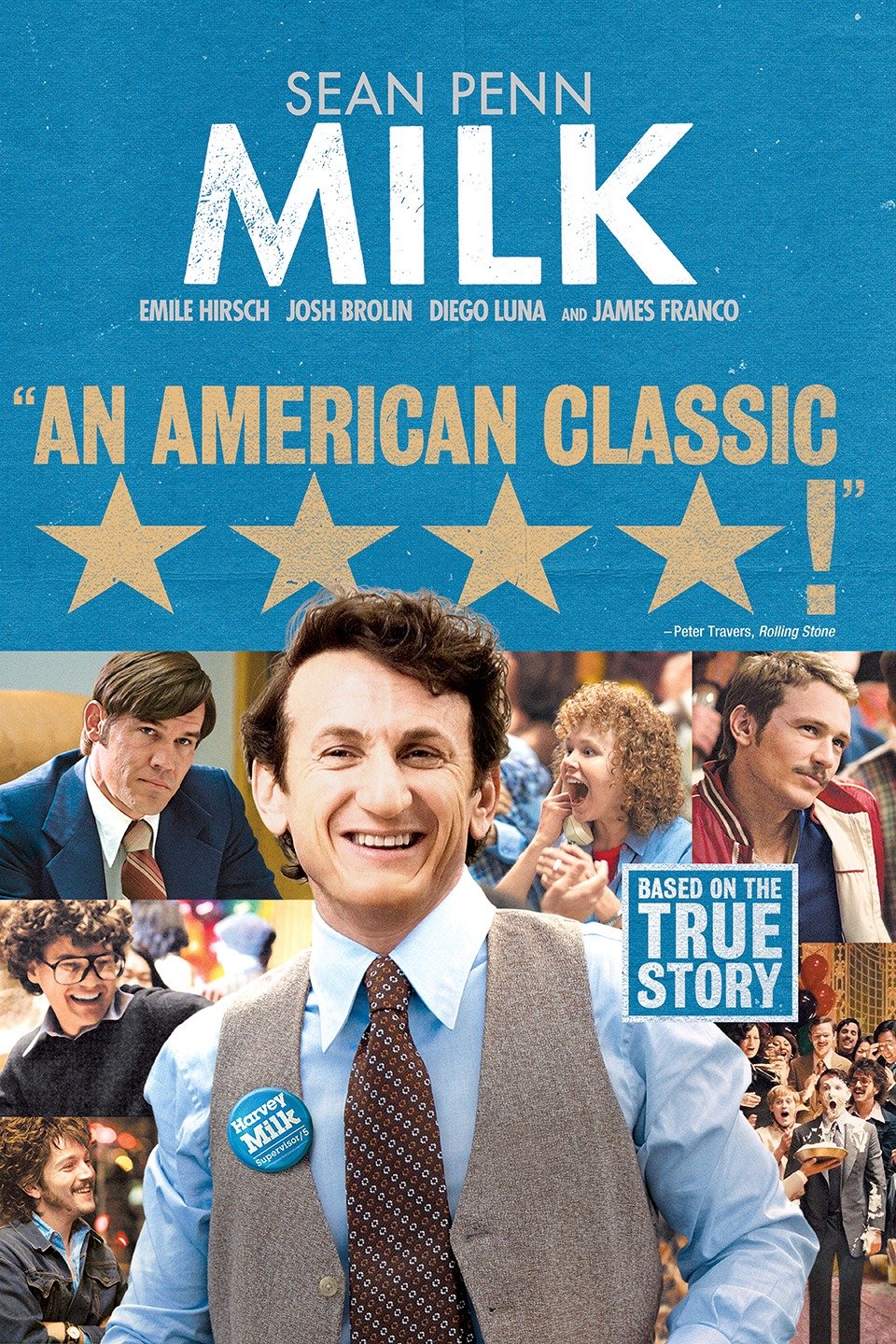 Harvey Milk was the first openly gay politician to make into the public office of America. A remarkable story of a man who made history for his activism, inspiration to the LGBTQ+ community and social change.
The story winds throughout Harvey's personal life from the age of 40, when he first announced his sexuality and began to make his impact on a shallow-minded world.
READ MORE – Milk
Lion (2016)
A heart wrenching true story of an Indian boy, Saroo, who got lost in the streets of Calcutta and ended thousands of kilometres from home. It's a story of his struggles as a homeless boy in India, how he ended up with a beautiful home in Australia, and how after 25 years of feeling lost, he found his mother in India with the power of google maps.
It really is a movie that you can't miss. It shows the reality of life in poverty, the power of dedication and the importance of family and strength.
READ MORE – Lion
Dallas Buyers Club (2014)
A captivating story about a Texan man who was diagnosed with AIDS and given 30 days to live. Ron refuses his treatment and is ostracised by his family and friends as a result. He experiments with a drug in the bid to prolong his life, and begins to sell it on the street to other HIV positive people.
It's a compelling story of compassion, strength and defiance of all odds.
READ MORE – Dallas Buyers Club
Hidden Figures (2016)
A true story about three African American women at NASA. This film sheds light on Katherine Johnson who was the brains in one of the biggest operations in history as they launch an astronaut into orbit and restore faith in the world.
This story goes behind the truth of Black women in the industry, and how times truly changed thanks to these inspiring women.
READ MORE – Hidden Figures
(Update: Here is an important article to read regarding the White Saviours in Hidden Figures and a specific scene that actually never happened – Read it here!)
Have you got any other 'movies that encourage' to add to this list?
[ READ NEXT: 15 Inspiring Songs that Encourage a Better World ]