Getting in touch with nature is something that gives me the most joy. Nature travel is by far my favourite, and with that comes many countries, places, adventures and activities around the world that I would love nothing more than to experience.
Here are 20 things to add to any nature lovers bucket list. So to all the crazy travellers on the hunt for amazing, nature fulfilling things to see… Why don't you add these to your bucket list too!
____________
I've ticked ✓ off those that I've experienced. But I'd love to know in the comments below if you've seen any for yourself!
Bio Bay – Puerto Rico
(Source)
Bio Bay is the most popular place to experience the Bioluminescence in Puerto Rico. Here you can partake in a guided night kayak to experience the fluorescent blue glow in all of its glory!
Believe it or not, Bioluminescence is created by living organisms. Pretty crazy huh?
Great Barrier Reef – Australia ✓
(Source)
The worlds largest coral reef system is something that cannot be unseen. The Great Barrier Reef is so large, being made up of over 2900 individual reefs, that the entire system can be seen from space. The 350,000 square km area is home to over 10% of the oceans marine species and is said to be one of the best snorkelling locations in the world.
Unfortunately, the reef is rapidly being threatened by Climate Change, so making a trip here should definitely be a priority.
Jigokudani Monkey Park – Japan
(Source)
You would normally associate a hot spring with hundreds of extremely relaxed humans, but that's not the case here in Japan. The unusual hot springs of Jigokudani Park, are where hundreds upon hundreds of Japanese Macaques come to relax in the steamy hot water. It's the perfect place to warm up when their homes are completely covered in snow.
Kinabatangan River – Borneo ✓
The Kinabatangan River in Sabah, Malaysia is a place where you will spot some of the most beautiful – and endangered – Asian animals. A sunrise/sunset cruise along the river is a peaceful but exciting way to look for Orang-utans, Pygmy Elephants, Proboscis Monkeys, Macaques and more. I was lucky enough to spot them all on this cruise alone!
[ READ NEXT: Borneo Photo Diary ]
Banff/Jasper National Park – Canada ✓

The Rocky Mountains. There's not much more I can say. Both Banff and Jasper National Parks showed me the most amazing scenery imaginable. This is a place that must be added to any nature lovers bucket list.
[ READ NEXT: 10 Things You Must Do During Summer in Alberta ]
Lapland – Finland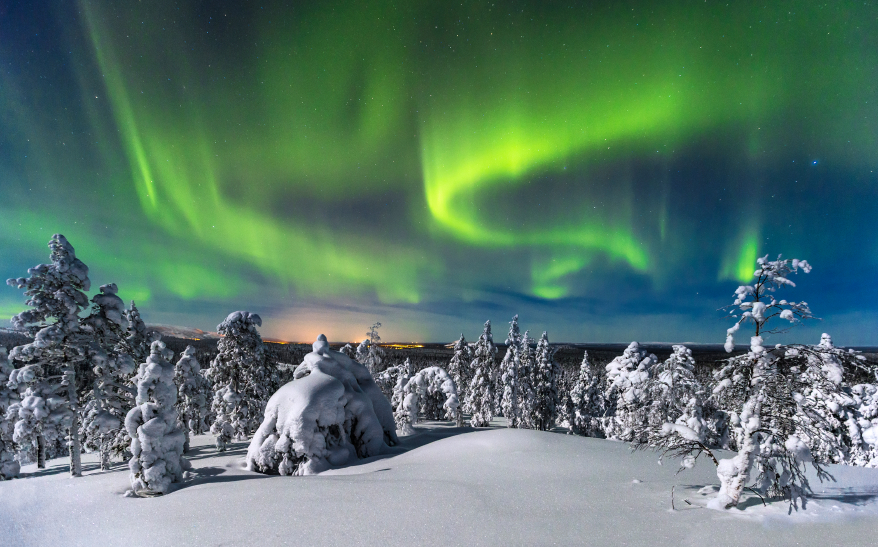 (Source)
Lapland is the north-most region of Finland. This part of the world is subject to crazy weather conditions, but also the most amazing natural phenomenon imaginable.
The Northern Lights and the Midnight Sun are frequently seen in the vast, intense wilderness of Lapland. One of the most popular things to do here is to fall asleep in the most amazing glasshouses and igloos, whilst watching the Northern Lights up above.
It doesn't get much better than that!
Waitomo Caves – New Zealand
(Source)
The Waitomo Caves in New Zealand are filled with the brightest Glow Worms (Arachnocampa luminous) that are completely unique to NZ. Take a boat ride through the caves to witness thousands of these tiny creatures radiate their intense luminescent light.
Maasai Mara – Kenya ✓
I finally made it to Kenya in September of 2017 and it was the most amazing thing I've ever experienced. Witnessing the great Wildebeest migration was something I will never ever forget. Experiencing the Maasai Mara has always been on my nature lovers bucket list, and I'm so thankful to have been able to experience it!
Amazon River – Peru ✓
The Amazon River is nature in it's richest form. Not only is it the largest river in the world, but also the largest and most complex eco-systems too. The animals that lie within the river itself and the forest along its banks are some of the most unusual that will ever be experienced. Creepy crawlies and loud howler monkeys greet you at every turn… What's not to love?
[ READ NEXT: 4 Days in the Amazon with TravelJust4U ]
Iceland Ring Road ✓

Like I've said in many blog posts about this unusual place, Iceland is nature like I've never seen before. If you aren't a lover of nature travel, this is certainly not the place for you. For me, everything about this country filled my heart with joy.
It's also where I was lucky enough to experience the Northern Lights!
[ READ NEXT: 11 Crazy Facts About Iceland ]
Yosemite National Park – California, USA
(Source)
1,200 square miles of rugged wilderness that has been protected since 1864. This park is best known for its impressive waterfalls and deep, breathtaking valleys.
Table Mountain – Cape Town, South Africa
(Source)
Table Mountain is the most iconic landmark in all of South Africa. Its very strange, flat top appearance and beautiful position create the perfect place to overlook the amazing surroundings of Cape Town. The Cableway drops you all the way at the top, or you can take an extensive hike if that's what you'd prefer.
Lauterbrunnen Valley – Switzerland ✓

This impressive valley is one of the most memorable sights from my time in Switzerland. The valley consists of open fields, mountain peaks, beautiful cliff faces and 72 amazing waterfalls; some of which plunge nearly 300m to the valley floor.
It really is impressive. Not only that, the Lauterbrunnen Valley is also one of the biggest nature conservation areas in Switzerland!
Ha Long Bay – Vietnam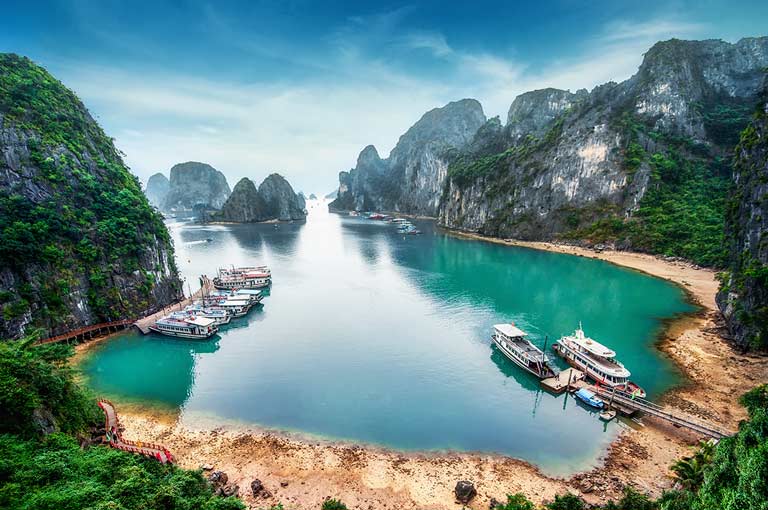 (Source)
Ha Long Bay is a UNESCO world heritage site that is an incredibly popular destination for anyone travelling or backpacking in Vietnam.
The most favoured method to see the surroundings is a cruise around the thousands of sky-high limestone islands. Although rock climbing, sea kayaking and beautiful hikes are not at all to be discouraged.
Mount Everest – Nepal ✓
Everyone knows Mount Everest. If you're a lover of mountains, can it get any better?
Blue Grotto – Italy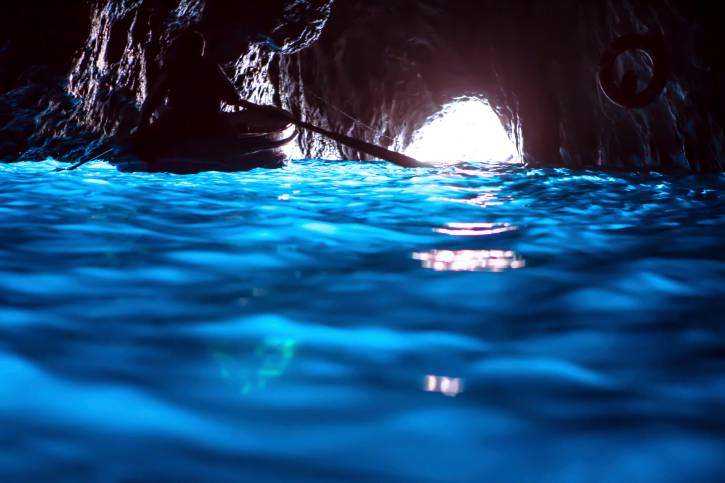 (Source)
This sea cave in Southern Italy is very iconic for its vibrant blue water. The turquoise colour is formed due to sunlight passing through an underwater cavity, which creates a bright reflection and illuminates the cave as a whole.
Preikestolen – Norway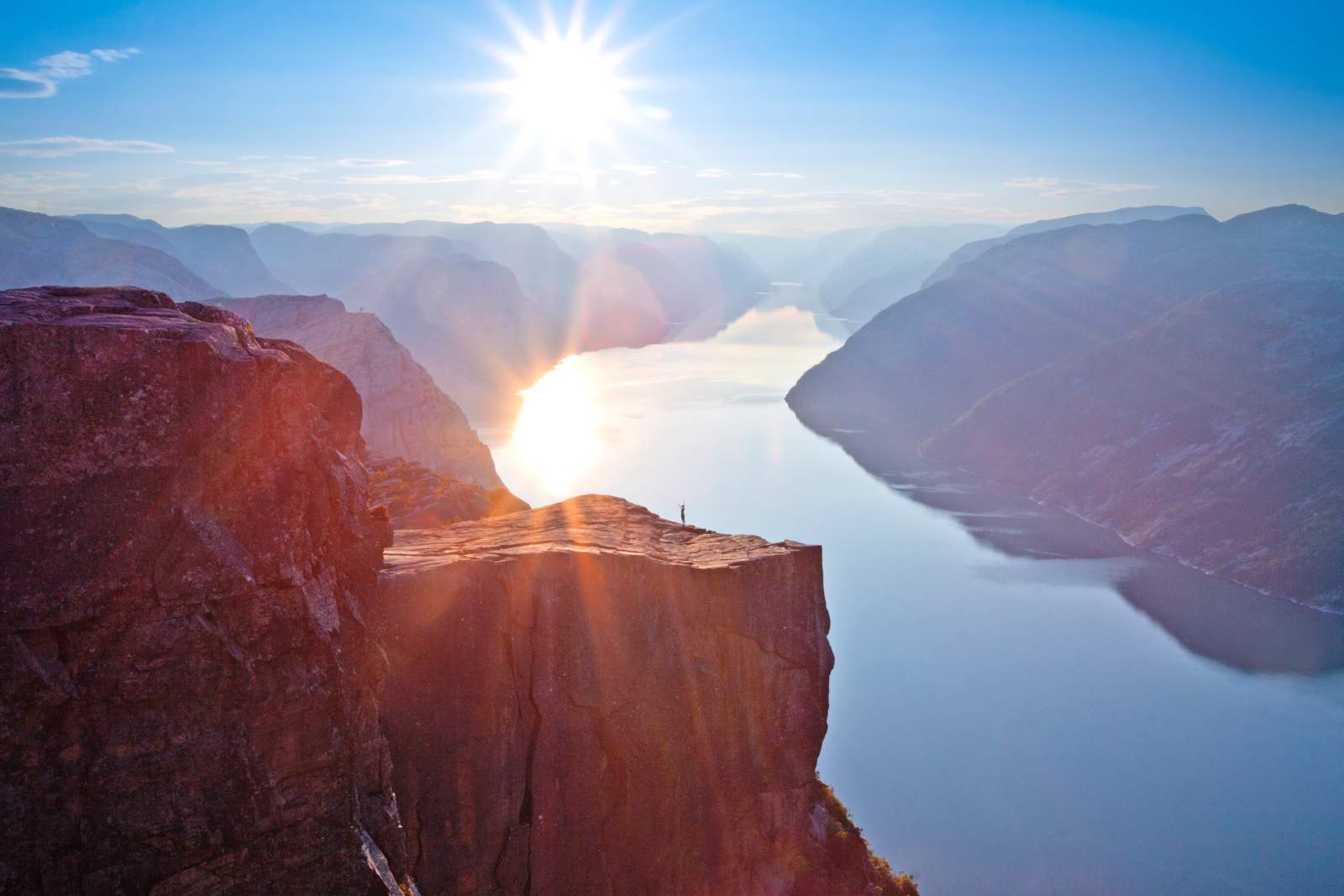 (Source)
This beautiful flat top cliff – also known as Pulpit Rock, is the perfect place to have a morning picnic or watch the intense evening sunset over Lysefjorden. If you're not interested in the 2-hour hike, there are driving options that will take you a little closer to the lookout. It's certainly not for the faint-hearted, but who would want to miss out on those views? I know I wouldn't!
Antarctica
(Source) 
Antarctica – the most magical place on earth that is melting away before our eyes. This is virtually the most un-inhabited place on earth. With ice slabs at an average of 1 mile thick, red waterfalls gushing from the surface and sights that are unfamiliar to our westernised eyes… Antarctica is basically the mother of mother nature.
Gansu Zhangye National Geopark – China

(Source)
The rainbow mountains of Gansu Zhangye National Geopark are the most artistic you'll ever come across. It's not only the colour that catches the eyes of all that sees them, but also the unique shapes that have been naturally formed.
These mountains were developed through 24 million years of sandstone erosion, varying weather conditions and moving tectonic plates which caused the interesting shape and outstanding colour.
Whale Encounters – Tonga
(Source)
Swimming with Humpback Whales in the wild… Tonga is one of the few places on earth where you can free dive with these amazing creatures. Full week tours with 5 entire days of diving are available, but there are also single day trips for those who're on a schedule.
Animals lovers, you should probably get booking!
Is there anything you would add to this nature bucket list?
Like it? PIN IT!
SaveSave